There are 43 Universities in Australia – many of them are internationally recognized as Australia has a strong record of academic excellence; in the 2020 QS World University Rankings 7 Australian Universities were ranked in the top 100 worldwide. There are also really strong subject rankings across many Australian Universities.
List of Australian universities by state
Australian Capital Territory
Australian National University – Group of Eight
University of Canberra
New South Wales
Australian Catholic University
Charles Sturt University
Macquarie University
Southern Cross University
University of New England
University of New South Wales / UNSW Sydney – Group of Eight
University of Newcastle Australia
University of Sydney – Group of Eight
University of Technology Sydney (UTS)
Western Sydney University
University of Wollongong
Northern Territory
Charles Darwin University
Queensland
Bond University
CQUniversity
Federation University of Australia
Griffith University
James Cook University
Queensland University of Technology (QUT)
University of Queensland – Group of Eight
University of Southern Queensland
University of the Sunshine Coast
South Australia
Carnegie Mellon University
Flinders University
Torrens University Australia
University of Adelaide – Group of Eight
University of South Australia
Tasmania
Victoria
Deakin University
Federation University of Australia
La Trobe University
Monash University – Group of Eight
RMIT University
Swinburne University of Technology
University of Divinity
University of Melbourne – Group of Eight
Victoria University
Western Australia
Curtin University – http://international.curtin.edu.au/
Edith Cowan University – http://www.ecu.edu.au/degrees/international
Murdoch University – http://www.murdoch.edu.au/Future-students/International-students/
University of Notre Dame Australia – http://www.nd.edu.au/nav-future-students/international-students
University of Western Australia – Group of Eight
Australian Universities Map
We are official representatives for 26 Australian universities including the Group of Eight (Go8) universities.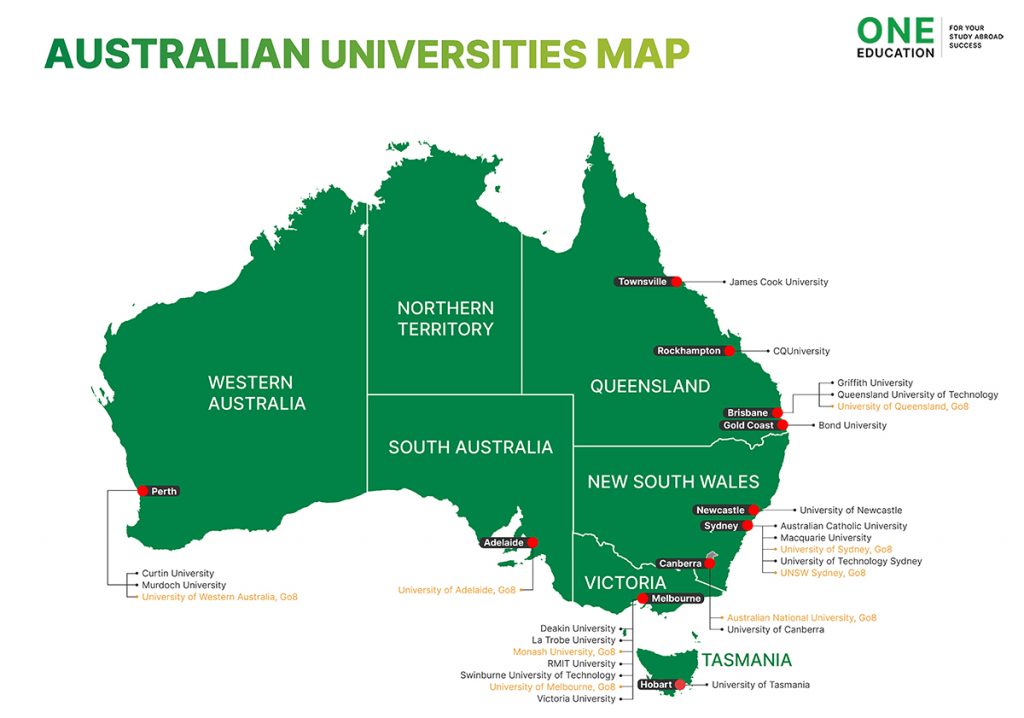 If you are interested in studying in Australia, please contact One Education to get information and free counselling on your study option and application process.
Add Line: @one-edu
Click here to submit an online form then our counsellor will contact you back directly.
One Education | Study Abroad. Simplified
Follow us
Facebook: One Education
Instagram: oneeducationthailand
Twitter: One Education
YouTube: One Education